The runways tell us it's better to have long legs vs. a long torso, but I'm not convinced. You long-torsoed ladies have a powerful (and tall) presence while sitting in the conference room. I bet you also excel at lower-body workout moves, like squats.
Unfortunately, those advantages don't change the way clothes are made. Many standard styles aren't designed to fit and flatter your long body. You might try combining pants for petites with tops for talls, but that strategy will only be occasionally successful and mostly awkward.
This post may contain affiliate links. See our privacy policy.
The solution lies in learning how to use your clothes to achieve more body balance visually. Specifically, you can choose clothes that either:
Shorten the look of your torso or
Lengthen the look of your legs.
Read on for five torso-shortening and four leg-lengthening style strategies you can try out today.
To shorten your long torso
Generally, you can shorten the appearance of your torso by defining where you want your waist to be and de-emphasizing where your legs actually begin. This isn't hard to do, since — as you'll see below — some chic silhouettes naturally emphasize your waist. Let's take a look.
1. High-waisted bottoms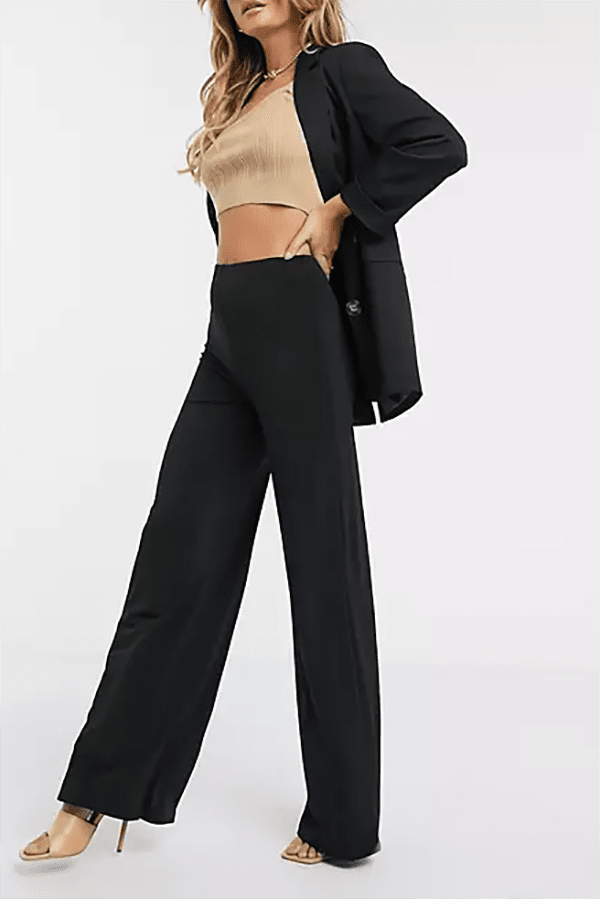 High-waisted bottoms (like these from ASOS) deliver a one-two punch for a long torso. They define your waist high up and they make your legs look very long.
2. A-line skirts and dresses
Another advantage of a long torso: You can rock a retro look like no other! A full A-line skirt or dress with a banded waistline has the same body-balancing effects as the high-waisted bottom: The shape of the garment creates your waist and the fullness of the skirt camouflages where your body transitions from hip to leg.
3. Crop tops
On your body, a slightly short top probably functions as a crop top. And that's a good thing, because crops look great on you. They draw a line straight across your torso, for a shortening effect. Pair crop tops with high-waisted bottoms or your A-line skirts.
4. Try the empire waist
An empire waist top or dress creates a "faux" waist that's right below your chest. Typically, these garments are full and flowy beneath that high waist, which also works to your advantage. When your clothes provide no indication of where your torso ends and legs begin, onlookers will fill in the blanks — usually in perfect proportion.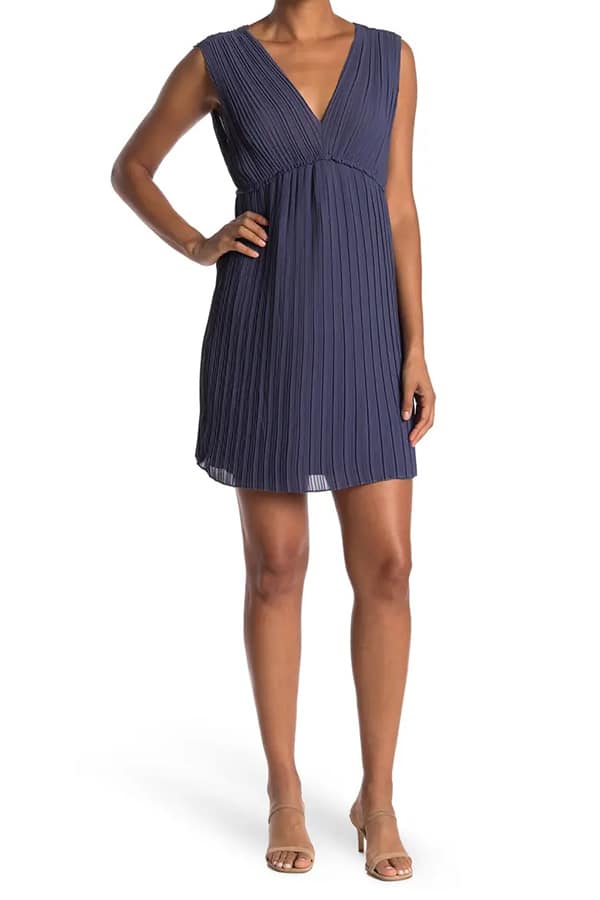 The navy dress above from Nordstrom Rack combines the empire waist with a short hemline to make your legs look longer.
5. Wear belts
Belts can serve the same purpose as an empire waist or the wide band atop an a-line skirt. Experiment with different belt thickness — you may prefer the look of a thin belt over a wide one, or vice versa.
The color of your belt vs. the rest of your outfit can also have an impact. On a monochrome dress, a contrasting belt will shorten your torso by cutting it in half. On a high-waisted pant, a belt of the same color can make your legs look longer.
Swimwear for long torsos
Swimwear can be particularly challenging for long-torsoed ladies. One-pieces don't fit you well, and bikinis can emphasize your length.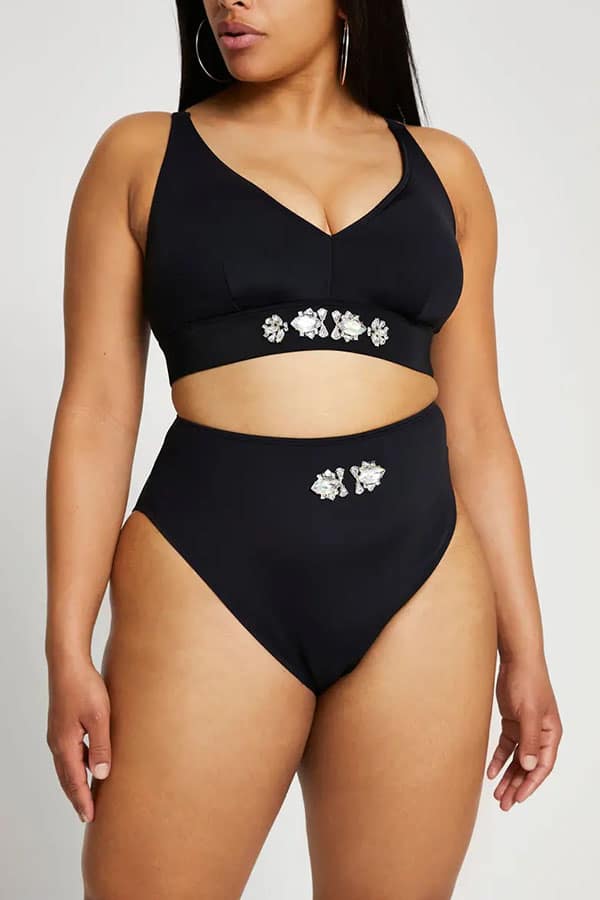 The good news is, you can modify several of the strategies explained above and below for your swimwear. Generally, you may want to avoid displaying the full length of your torso from boob to pube.
Seek out combinations of tops and bottoms that break up your length. High-waisted bottoms and slightly longer tops usually do the trick — something like this combo from Nordstrom. You can also look for bathing suit tops with waist-defining features, like wrap-style tops with side-ties.
To lengthen your legs
Below are four ways you can use clothes to make your legs look longer. You can combine these with the torso-shortening tips above.
1. Full-length pants
High-waisted pants that almost hit the floor elongate your legs, especially when you combine those long pants with the next tip below.
2. Match your legs with your shoes
If you're wearing black pants, reach for black closed-toed shoes or boots. Going monochrome from the waist down creates a vertical block of color that tricks the eye into seeing length.
You can test this out, too. Stand in front of a mirror with black pants and black pumps. Then swap out the pumps for a shoe of a different color. The hem of your pants should now be more obvious, and the space between your waist and the floor should look shorter.
3. Show your legs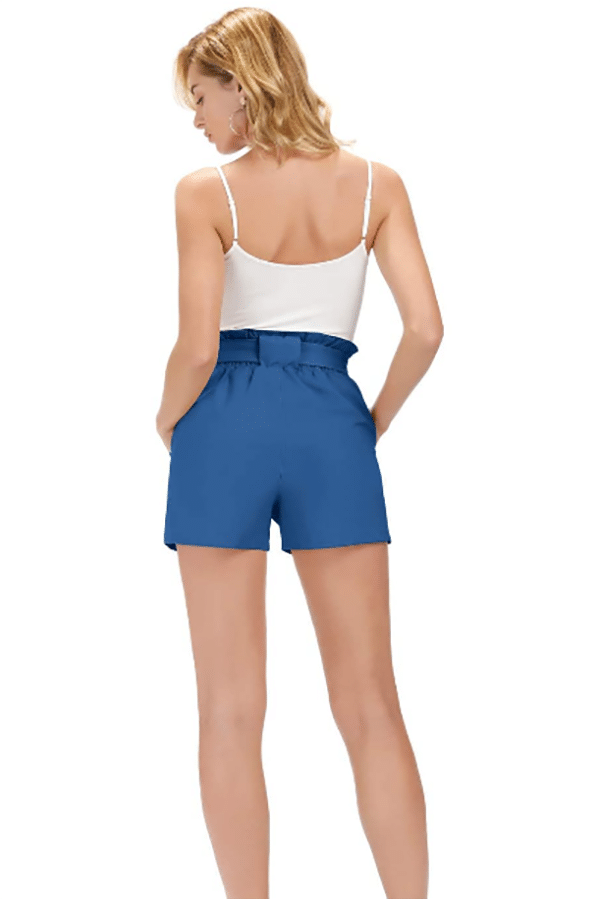 Keeping your shorts and skirts short — above the knee — also helps elongate the look of your legs. Even better, choose a high-waisted short short or skirt, like these. And, sticking with the monochrome leg idea, you can also wear no-show socks and skin-toned shoes or sandals.
4. Avoid ankle straps
Straps that run horizontally across your ankle shorten your legs by creating an artificial border of sorts. The ankle strap affects your leg length the same way a crop top affects your torso length — it divides a long body part into two short body parts.
That leads me to the general takeaways for adding proportion to your long torso. If you retain nothing else from this post, remember these two points:
You can shorten body parts by breaking them up. Do this with shirt hemlines, belts, and straps — anything that creates a line to cut across your body.
You can lengthen body parts by creating long, vertical blocks of color.
Keep those points in mind as you shop and you'll be a pro at creating body balance in no time.