The weather isn't the only thing heating up this season. Now that we can see full, mask-less human faces again, makeup is back in style — and hotter than ever.
Some words I'd use to describe summer makeup trends this year are bold, experimental, and imaginative. It feels like the "revenge travel" trend applied to makeup. After 15 months of skipping vacations, people are booking bigger, better vacations than ever. And, after 15 months of wearing masks, women are pushing the limits with makeup, pushing outside their comfort zones with color, and even defining new application styles.
This post may contain affiliate links. See our privacy policy.
You might welcome this "anything goes" beauty dynamic. Or, you might find it intimidating. I feel a little of both, honestly. Having an excuse (and ample inspiration) to switch that up is exciting. But I'm in my late-40s, and I don't see myself wearing neon green eye shadow, either.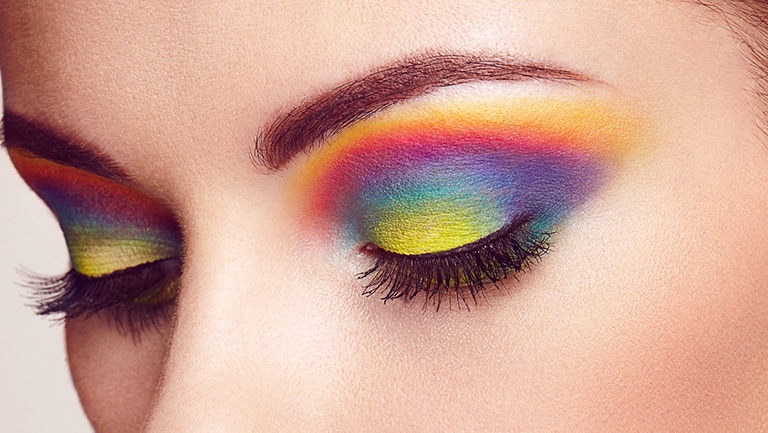 Thankfully, the beauty gods have thrown a few subtleties into the mix, too. Take a look at the six summer makeup trends below and decide which might add some spice to your makeup routine.
1. Bright lips and eyes
If you read my post about pedicure colors for the summer, you might remember that oranges and aquas are the polish shades of the season. Well, guess what? Those same shades are trending as lip and eye colors. If you've ever wanted to try orange lips, now is the season to do it. Same goes for the brightest greens, blues, pinks, and yellows on your eyes.
Plus, you can apply these crazy colors in any way you want. Use a single shade of hot pink on your top and bottom lids, create a rainbow effect with multiple colors, or swipe a glittery green at the inside corners of your eyes.
To experiment with this trend, pick up a low-cost palette with a few bold colors. This NYX palette from Target is an example. Try applying the color to your upper lid only and see how it feels. Or try it as a liner only. Remember, it's anything goes!
2. Zero waste product
Zero-waste beauty brands are blowing up right now. Zero waste products are made and packaged so that their use creates no landfill waste. In the strictest sense, that means no plastics and fully recyclable packaging. (Note that some zero waste products get away with using plastics by relying refillable containers. The idea is that if you keep refilling the same container, it never ends up in the landfill.)
Popular zero waste beauty products include multipurpose color sticks and refillable lipsticks and eye shadows. You can also find zero waste shampoo bars, face soaps, and even reusable cotton rounds. But once you find yourself shopping a zero waste store, you'll see a range of products that fall outside your makeup regimen. Toilet paper, toothpaste, straws, food storage containers, and more.
3. Fresh face
Alongside the epic eyes and lips of the summer, you'll also see the natural makeup look in your feeds. We're talking BB or CC cream, mascara, and maybe a sweep of nude lip color and another of cheek tint.
You can easily pull off the natural look. If you're self-conscious about your skin, get yourself a quality BB cream. One of my favorites is Everglam with SPF 30, available on Amazon. It's not cheap, but a tiny bit provides amazing, natural coverage. Then, see our natural makeup tutorial and DIY moisturizer recipes for fresh, glowing skin.
4. Glow time
Speaking of glowing skin…if you don't wake up with the fresh-faced glow you want, you can easily fake it.
You can employ bronzers, highlighters, or rosy cheek stains to perfect your just-out-of-the-shower, dewy face. Experiment with a rosy tinted moisturizer, a highlighting primer (worn with or without makeup), or a shimmery bronzer.
If this is your first foray into shimmer, start sparingly. Mix in a glowy moisturizer with your regular product and then step outside with a mirror to check your work. I can tell you from experience: overdoing the glow could prompt your friends to ask if you're feeling OK.
5. Subtle cat eyes
Cat eyes are back in the most delicate way. This year, ditch the jet black pencil or liquid liner and opt for a soft brown or grey instead.
You don't have to reach for the tops of your ears with your wings, either. Just fill in a nice point at your eye's outer corner and connect it to a soft line across your upper lashes. If you want to double up on the trends, top your brown liner with a bold orange shadow.
6. Natural brows
Seems like all that time without access to salon eyebrow-scaping has taught us there's really nothing wrong with how our eyebrows grow naturally. I love when a trend gives me an excuse to stop paying for a service I never really needed anyway.
There's not much to know about participating in the natural eyebrow trend. You might need a clear shaping gel if your brows are super unruly. Or, if your brows are patchy and thin, you'll need a pencil or powder to fill them in. Chances are, you're already doing that everyday, but if you need recommendations: I like RealHer's eyebrow pencils. I've also used Clairol root concealing powder on my brows in a pinch.